If your water heater has a 12-year warranty and it's been in service for 15, it might be time to get a new one. In homes with hard water, which can be tougher on water heaters, a heater may fail within the warranty period. If you haven't replaced your water heater in a few years, you'll find more choices—and more energy-efficient regulations—so do your homework. You may have to spend more up front for a model that will save you money over time.Water heating amounts to nearly 20 percent of a home's energy costs. As the result of new efficiency standards, water heaters under 55 gallons will see about a 4 percent boost in efficiency, while water heaters 55 gallons or more may cut your utility bills by 25 to 50 percent depending on the technology used.
Simplify Your Hot Water System
Tankless water heaters, also known as demand-type or instantaneous water heaters, provide hot water only as it is needed. They don't produce the standby energy losses associated with storage water heaters, which can save you money. Here you'll find basic information about how they work, whether a tankless water heater might be right for your home, and what criteria to use when selecting the right model.
How They Work
Tan
kless water heaters heat water directly without the use of a storage tank. When a hot water tap is turned on, cold water travels through a pipe into the unit. Either a gas burner or an electric element heats the water. As a result, tankless water heaters deliver a constant supply of hot water. You don't need to wait for a storage tank to fill up with enough hot water. However, a tankless water heater's output limits the flow rate.
Typically, tankless water heaters provide hot water at a rate of 2–5 gallons (7.6–15.2 liters) per minute. Gas-fired tankless water heaters produce higher flow rates than electric ones. Sometimes, however, even the largest, gas-fired model cannot supply enough hot water for simultaneous, multiple uses in large households. For example, taking a shower and running the dishwasher at the same time can stretch a tankless water heater to its limit. To overcome this problem, you can install two or more tankless water heaters, connected in parallel for simultaneous demands of hot water. You can also install separate tankless water heaters for appliances — such as a clothes washer or dishwater — that use a lot of hot water in your home.
Is Tankless Right for You?
For homes that use 41 gallons or less of hot water daily, demand water heaters can be 24%–34% more energy efficient than conventional storage tank water heaters. They can be 8%–14% more energy efficient for homes that use a lot of hot water — around 86 gallons per day. You can achieve even greater energy savings of 27%–50% if you install a demand water heater at each hot water outlet. ENERGY STAR® estimates that a typical family can save $100 or more per year with an ENERGY STAR qualified tankless water heater.
The initial cost of a tankless water heater is greater than that of a conventional storage water heater, but tankless water heaters will typically last longer and have lower operating and energy costs, which could offset its higher purchase price. Most tankless water heaters have a life expectancy of more than 20 years. They also have easily replaceable parts that extend their life by many more years. In contrast, storage water heaters last 10–15 years. Tankless water heaters can avoid the standby heat losses associated with storage water heaters.
Consider a Combi
IBC produces a line of Combi Condensing Boilers, which will heat your water and your home. Check out the details below.
Product Stats: The DC Series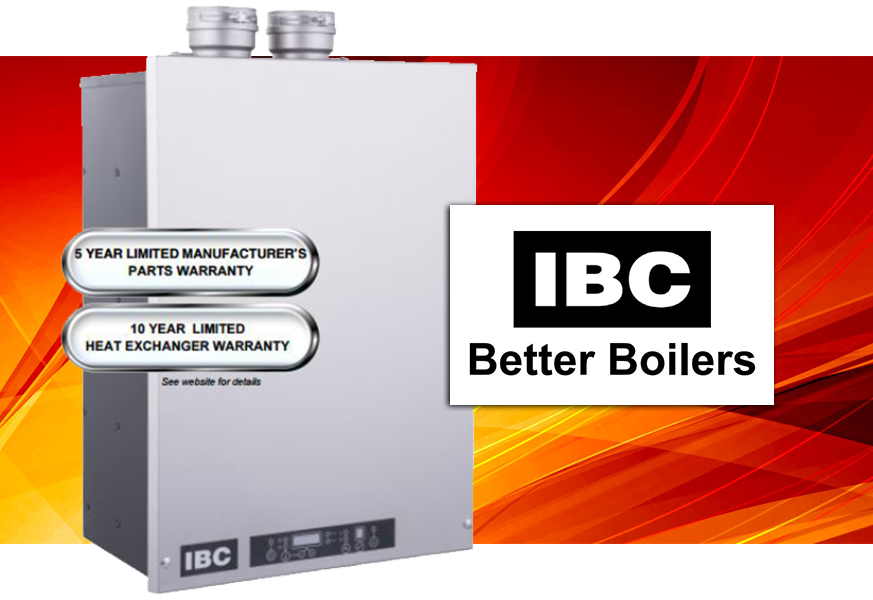 Combining Domestic Hot Water & Space Heating in a single compact design!
 Up to 94% AFUE with full ASME rated vessel
Built in Boiler Pump
Includes Air Vent, Outdoor Sensor & Relief Valve
The dual two in one, back to back heat exchanger eliminates the need for a diverter valve and secondary domestic hot water plate heat exchanger
Contractor friendly, fewer internal parts, easy to install, maintain and service
Reset heating – Set point – DHW
Outdoor Reset Technology increases efficiency by lowering the water temp automatically
10 year limited warranty
Unique "self learning" ECO-mode for greater DHW efficiencies
Consult the Experts
One sure way to determine the best choice for you and your home is to contact Paquette Plumbing. Our trusted team of experts will take the time to talk to you about the options, get to know you and your home, and find the choice that makes sense for your budget and energy needs. Contact us today to get started.
Latest posts by Nicholas Paquette
(see all)